New Learning Opportunities At Abilene Heritage Square With Spark Innovation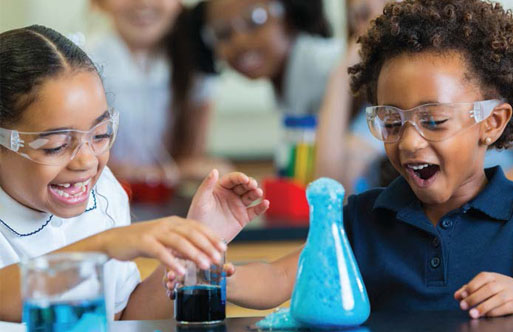 What is Spark Innovation?
Spark Innovation is a satellite location of The Grace Museum that serves as a new, interactive, exhibit space with a STEAM (science, technology, engineering, art, and math) focus. This space provides engaging learning experiences for all ages and includes both permanent and traveling exhibits for visitors to enjoy. There is also a special emphasis on careers in STEAM related fields to inspire future education and career pathways.
What is included in the facility?
From the walls to the hallways, the whole facility will be geared to foster excitement, promote curiosity, grow problem-solving skills, and broaden understanding. Spark Innovation will host permanent and temporary exhibits in 6,500 sq. ft. of indoor space, with an additional 8,000 sq. ft. of outdoor space to learn and play. 
How will these exhibits differ from those at The Grace Museum?
Within The Grace Museum is an interactive art space called Spark Imagination and an interactive history space called Spark Connection. Spark Innovation at Abilene Heritage Square has been intentionally designed to incorporate all the elements of STEAM. Spark Innovation's exhibits will include a wide range of STEAM-related content providing new and different learning opportunities for visitors.
What types of exhibits will be featured?
With an emphasis on science and technology, the focus will be on exploring these five categories:
Engineering and Technology
Biology and Medicine
Energy and Physics
Chemistry and Environment
Space and Astronomy
These will include exhibits about dinosaurs, space, simple machines, weather, and more!
Spark Innovation Exhibits
The Grace Museum is excited to open a satellite campus called Spark Innovation within Abilene Heritage Square. As a Nationally Accredited Museum, The Grace holds the highest standards of excellence in exhibitions, collections, finances, programming, and staff. Spark Innovation will maintain that standard of excellence while shifting focus to STEAM education. It will include 6,500 sq. ft. of indoor space and over 8,000 sq. ft. of outdoor space, as well as being perfectly situated next to the new main branch of the Abilene Public Library.